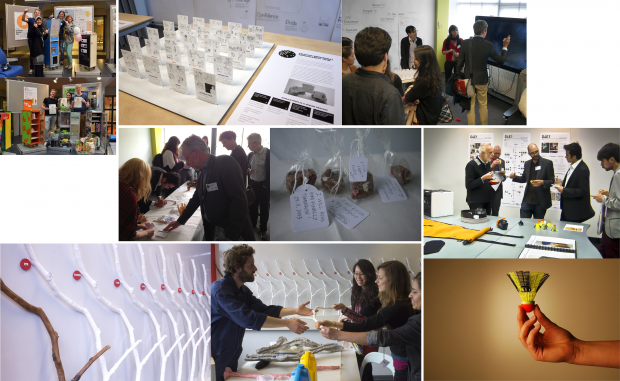 Happy Trolley | Carlita Kooman & Pieter Desmet
The award ceremony for the happy trolley contest took place on May 24, during the Positive Design Day. The chair of the jury, Anna Pohlmeyer, mentioned that it was not easy to select a winner because each concept has unique qualities. The winning design is 'Life Lessons' by Steffen de Jonge, Fleur van Uffelen, and Mitra Smit. The jury also decided to give an honorary mention to the design 'Framed' by Assmae El Coudi El Amrani, Gerbera Vledder, Sally Augustijn, and Geoffrey Doornbosch, because of the strong 'well-being impact' of the design. KLM was very enthusiastic by the designs, and they will communicate some of the results to all KLM employees through their employee magazine.
Certain sticks and other chance encounters | Alex Zakkas
This exhibition presented the process, the guiding concerns and main insights of a research project that explores the affective potential of designed objects. Visitors were invited to physically experience prototypes created throughout the research trajectory and actively participate in the process of meaning-giving and emotion-forming in interaction with materials. Both the researcher and the visitors of the exhibition where confronted with the difficulty of intentionally designing modes of interaction where subjective associations and personal ways of relating to things can evolve unintentionally.
Rich experiences | Steven Fokkinga
Although the title of the day may suggest otherwise, there really was a place for negative emotions at the event. Because as it turns out, negative emotions are an important ingredient for having meaningful experiences and achieving happiness. My exhibition was devoted to this idea. It showed in what way negative emotions can contribute to richer user-product experiences, through eight different student projects. Four of the projects were actually still work in progress, for which students were making prototypes. Some of those students came to the exhibition to show their prototype and presenting their projects, which made it really come alive. This also stirred discussions with the visitors about which emotions you should evoke, and how you can do that through design. I would like to say that in the end most people were convinced of the positive nature of negative emotions.
Positive emotion granularity | Jay Yoon
I believe that providing the hands-on experience with the audience was very good communication channel that could effectively demonstrate the diversity of our research approaches. Besides, it was mutually beneficial opportunity: during the exhibition, I really enjoyed discussions with visitors and could get lots of helpful remarks on my research. It would be nice if we can do this kind of public exhibition on a regular basis (perhaps, joining other events such as World Happiness Day).
Due to the hectic schedule, there was no chance for all exhibitors to meet so that we had to individually manage all issues. It would have been nice if all members could share each exhibitor's plan and support each other. Although the marketing team was supportive in preparing the exhibition, there were some issues to be improved. For instance, installation materials were not properly supplied as I requested, and I was notified just before the exhibition date, so that I had to improvise myself.
Desires and temptations | Deger Ozkaramanli
Procrastination – delaying decision-making or action related to a specific task to fulfill the desire for immediate comfort and pleasure – is a common state in daily life. Postponing responsibility for instant pleasures initiates a stressful tug-of-war between seeking virtue and yielding into temptation.
Chocolate to-do list is a product-service concept that deals with this virtue-temptation conflict. You can upload your to-do list on a website, which will send you a chocolate bar with the tasks from your list marked on it. Once you complete a task, you can reward yourself by biting off that piece from the chocolate bar.
The goal of the exhibition was to have our visitors experience the idea of a chocolate to-do list. Visitors walked into a room with a table in the middle, on which there was a pile of hand-made chocolate. Some visitors, who were overwhelmed by desire for a piece, skipped the instructions to take a piece and eat it. Others packed a piece of chocolate in a plastic bag, and tied a note-card around it. This was a note to themselves explaining a personal commitment and the date by which the commitment would be fulfilled. The commitments ranged from calling my mother to making the first move towards someone and graduating on time.
Design for (every)one | Lieven de Couvreur
Design  for (every)one is  an codesign program build around meaningful activities of disabled people. Personal digital fabrication tools have become easier to use by non-engineers; it turns them into users as well as designers We explore the role of subjective wellbeing within the process of making together a personalized assistive device. This approach opens up new possibilities for disabled people to engage with their skills and local caregivers.
Through a process of social product adaptation, assistive artifacts become part of occupational therapy and co-evolve with clients. Within the experience-design research exhibition we were able to show some surprising products and sensitive the design audience for the needs of small user groups. We loved the overall warm and accessible approach and hope to that people copy our products… as we consider this as positive thing!