InnovationLab is a project designed as a laboratory in which bachelor students, PhD researchers, and experts from various fields can think about and design for the "city of the future", with a focus on collective happiness. The lab brings together bachelor-level, honor students from various faculties at three universities: Delft University of Technology (TU Delft), Leiden University, and Erasmus University in Rotterdam. InnovationLab is an initiative of Robbert Jan van der Veen, teacher at TU Delft, and Stella Groenewoud, an honor student at TU Delft.
For the second year of InnovationLab, Pieter Desmet and Deger Ozkaramanli from DIOPD joined the InnovationLab team to support students with understanding and implementing principles of Positive Design in their projects. Pieter Desmet delivered a lecture on Positive Design Framework, and Deger Ozkaramanli delivered a lecture on Designing with Dilemmas, and acted as a jury member in evaluating students' design ideas. The theories and principles discussed in these lectures inspired innovative design ideas within the theme of Happy City. Below are some of the end-results presented on 24 April 2015: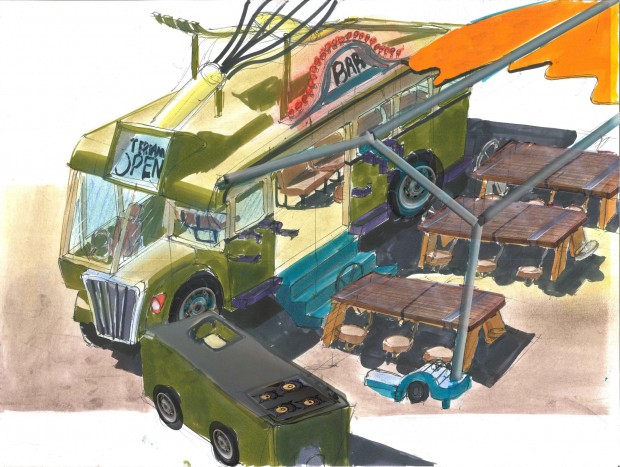 WIJKOKEN is a mobile restaurant in the form of a bus. It brings together residents of a neighborhood so that they can cook and eat together in a relaxed and cozy atmosphere. In this way, it aims to create moments in which inhabitants of a city can trust each other, as well as their environment, through sharing food. Designers: Koen van der Sanden, Peter Hendriks van Warbij, and Oukje van Merle.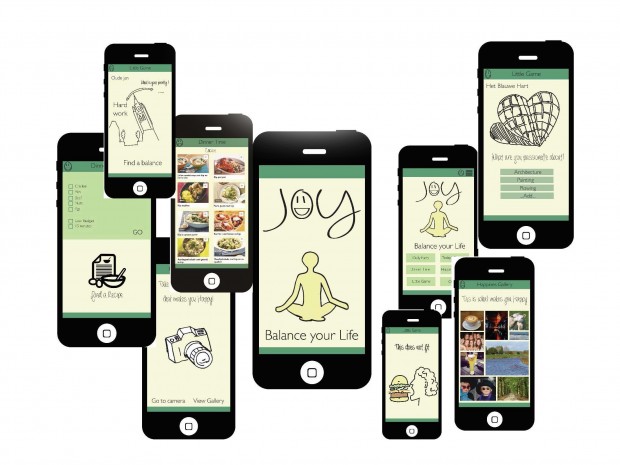 JOYAPP is a phone application designed for students living in Delft (for now!) in order to help them discover the three main elements of a happy student life: pleasure, purpose, and virtues. JoyApp suggests activities that help students better understand and practice these three elements. It is different from other phone applications that claims to enhance happiness, because it combines the virtual environment with elements of the physical environment by specifically targeting places and activities that are unique for living in Delft. Designers: Kris Goudriaan, Lieve Bouwman, and Ilse de Jong.
For the next version of InnovationLab, students will benefit from the recently launched Positive Design Reference Guide as part of their course reader.