Pick-A-Mood is a character-based pictorial scale for mood expression and measurement. The cartoon characters enable people to express their moods quickly, intuitively, and accurately. Pick-A-Mood consists of three sets of characters: a set with male, female, and with robot expressions.

The three Pick-A-Mood characters, expressing an 'Excited-Lively' mood
The characters express eight different mood states (and one neutral state), representing four main mood categories: Excited & Cheerful (for energized-pleasant); Irritated & Tense (for energized-unpleasant); Relaxed & Calm (for calm-pleasant); Bored & Sad (for calm-unpleasant).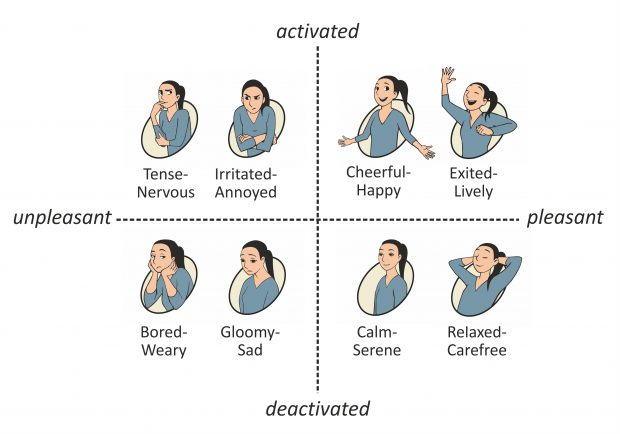 Eight mood states expressed in Pick-A-Mood
Reporting mood with Pick-A-Mood requires little time and effort, making it particularly suitable for design research applications, which often include situations in which people have little time or motivation to report their moods. The cartoons can be used both as a tool for measurement (i.e. to enable researchers to measure the moods of their respondents) and as a tool for communication (i.e. to enable people to communicate their mood in social interactions). It can be used to collect rich data, to sample experiences, to create remote awareness, and to enable self-expression in a wide range of design-related applications. A validation study with 191 respondents indicated that the expressions portray differentiated mood states that represent all four basic mood categories, and that people correctly recognise the intended moods. See Desmet et al. (2016) for the development and validation study.
Authors
Martijn Vastenburg, Natalia Romero, Pieter Desmet (concept & production); Peter Wassink (cartoons).
Availability
Pick-A-Mood is available under the 'Creative Commons community license,' free-of-charge for non-commercial use.
To obtain Pick-A-Mood, please contact us by email
Creative Commons License
Manual
The Pick-A-Mood manual provides some tips on how to use the tool, and answers frequently asked questions.
Download the manual here.
References
Manual
Desmet, P. M. A., Vastenburg, M. H., & Romero, N. (2016). Pick-A-Mood manual: Pictorial self-report scale for measuring mood states. Delft (NL): Delft University of Technology (ISBN: 978-94-6186-683-7).
Background, development, and validation
Desmet, P. M. A., Vastenburg, M. H., & Romero, N. (2016). Mood Measurement with Pick-A-Mood; Review of current methods and design of a pictorial self-report scale. Journal of Design Research, 14 (3), 241–279.
Earlier version of the tool
Vastenburg, M.H., Romero, N., van Bel, D., & Desmet, P.M.A. (2011). PMRI: development of a pictorial mood reporting instrument. In proceedings of CHI 2011, May 7-12, 2011, Vancouver, BC, Canada.
Publication date
December 2012
Inspiration
Pick-A-Mood has been used in several interactive applications. Alexander Stone developed the "Better Mood Tracker" app. As part of the Interaction Design (MDes), School of Design, The Hong Kong Polytechnic University, Priscilla Pui Sai Ho, Denny Petrus Johannes Hurkmans, Chushu Zhang and Weiyi Ning (supervised by Dr. ir. Juan Jiménez Garcia), developed the "EMS tool", an Experience Sampling Method research tool.
| | |
| --- | --- |
| Better Mood Tracker | EMS tool |