Being human is being emotional: No matter your age or background, everything you do and think is enriched by emotions.
Think of an emotion – what comes to mind first? Hope perhaps, or anger, fear, sadness, or pride. Indeed, these are some well-known emotions, but our repertoire includes many more shades of emotions. In fact, there are at least 60 different emotions, each with unique qualities and experiences. The pallet of human emotions is highly diverse, not just in terms of how we feel them but also in terms of why we have them and how they influence our actions. They urge us to laugh, cry, examine, withdraw, confront, or comfort. They influence the mundane as well as the profound – from our choice of coffee to our political stance and our choice of life partner.
Discover the nuances of emotion
The emotion typology is an open-access online database that provides detailed information on positive and negative emotions. It includes 60 emotions, of which 20 are positive and 40 are negative.
visit the typology:
For each emotion, the database provides the following information:
– formal definition
– explanation of causes and responses
– three clips from popular movies expressing that emotion
– typical verbal expressions
– cartoon mini-story (currently available for negative emotions only)
– comparisons with similar emotions (currently available for negative emotions only)
– references to scientific sources for further reading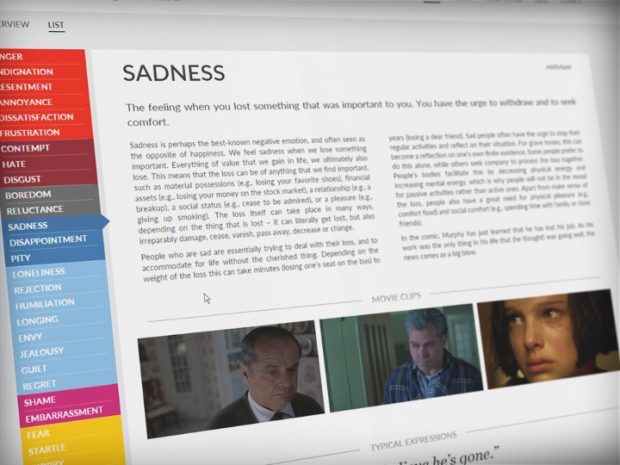 Emotion Typology Initiative
The typology is an initiative of the Delft Institute of Positive Design (Delft University of Technology). Its development took seven years (2015–2022). Several scientists contributed, including researchers from Delft University (dr. Steven Fokkinga, dr. Deger Ozkaramanli, dr. Tjasa Kermavar, dr. Pieter Desmet) and from the University of Amsterdam (dr. Disa Sauter and dr. Agneta Fisher). Apart from the lead researchers, many other experts and designers have contributed.
License
The typology is available under a Creative Commons (Attribution-NonCommercial-NoDerivatives 4.0 International) license, which means that anyone is free to share, copy and redistribute the material in any medium or format.